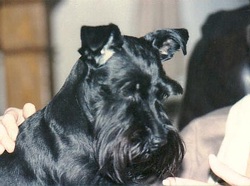 Biscuit - the start of it all...
It was 1983 and my pet cat had died. I wanted another pet but my boyfriend (later my husband) was allergic to cats. I did some research and was told by an allergist that a few breeds of dogs were considered non-allergenic. The mini schnauzer was one of them. I remembered a mini from my old neighborhood growing up and thought that would be a nice sized house dog. Not knowing exactly where to start looking for one, I called local vets and finally had one recommend a breeder in the region. He cared for her dogs and he said they were nice. I called her and she had an
upcoming litter that
was not completely spoken for yet. When we went to visit her she showed us pictures and ribbons from her days in the show ring years before. I barely noticed as all I wanted was a puppy! When that litter was born we came home with a black girl puppy we named Biscuit. Even though she was clippered for her entire life, she was jet black .She had beautiful color! The longer I lived with Biscuit, the more hooked I got on this breed. Biscuit lived to the ripe old age of 14 1/2 and waits for us at the bridge.
The next step.....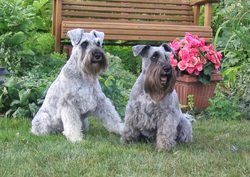 When I lost Biscuit, I knew I wanted a well-bred pet to add to our household. I did TONS of research on-line and I found Bonnie Keyes of Maplewynd who I bought Lacey from in 1998 and who we sadly lost in July of 2009. Then I added Gus who came from John Constantine of
Adamis
in 2003 who I lost in October of 2016.
By this time the show bug was nibbling at me and I had started attending dog shows in 2000. The Montgomery County Kennel Club All-Terrier Specialty was becoming an annual pilgrimage!
I joined the
American Miniature Schnauzer Club
in 2003 and my local all-breed the
Tioga County Kennel Club
the next year. I am currently on the Board of Directors of the American Miniature Schnauzer Club and President of the Tioga County Kennel Club. I am extremely active in many committees in both clubs.
Gabby - my first show dog!


~Gabby~ CH Essex Riversong Talk Out Loud

I finally decided to try my hand in conformation showing and I was so fortunate because my friend Sheila Marks of Essex was planning her first litter. Her bitch Allie (CH. Royalcourt Cafe Royale) had a lovely litter that produced 2 show potential pups, one of which was to become my girl. I named her Essex Riversong Talk Out Loud (Gabby).
I flew down to Florida to pick up my puppy in April of 2006.

Once we got home, I drove to Buffalo where Carla Borrelli (Carbor Miniature Schnauzers) started to teach me how to roll her coat (which is what we do to get their coats in show condition).

I started taking handling classes and was looking forward to showing Gabby in a local match on Memorial Day! I was hooked!

Gabby turned out to be the best first little show dog I could hope for. She loved to please me, was so very patient with me as we learned the ropes together and to this day is still one of my best buddies.




Gabby - my first AKC Champion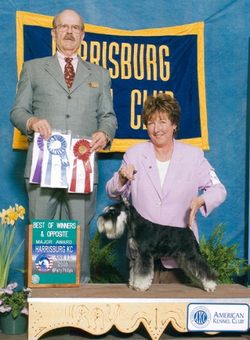 Bonnie Keyes of Maplewynd Miniature Schnauzers had now become a wonderful friend and mentor and she gave me tons of great advice and tips on everything from handling to grooming.

I knew that it was very hard to finish your first dog to it's AKC Championship, and that it was very possible that I would need to put her with a handler to finish her. But I REALLY wanted to do it myself. After many shows, some disappointments along the way, I am proud to say that I finished her all by myself in the spring of 2008. What an incredible thrill!

I was ready for the next step. I found a lovely sire, had all the appropriate health testing done on Gabby and she had a litter of puppies in 2009! I kept the best puppy to show and the rest of her puppies were sold to loving homes in our region. I spayed Gabby the next year, as I did not plan on breeding her again.


The next generation......Mia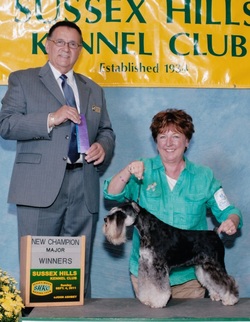 ~Mia~ CH Riversong Talk'n About Broadway
Mia was my keeper puppy from Gabby's litter. She is a real firecracker and we had a ball in the ring! I
finished Mia's quest for her AKC Championship at the Sussex Hills Kennel Club show in NJ on 9-4-11 completely out of the Bred-By class! I planned on breeding her in spring of 2012. Unfortunately, Mother Nature had other plans for Mia and she ended up with a closed pyometra and I had to do an emergency spay on her.
Mia got through her surgery well and is a happy, crazy girl that is still the light of my life! But with both Mia and her mother Gabby now spayed, I had to start over.
Our 2015 addition....Dazzle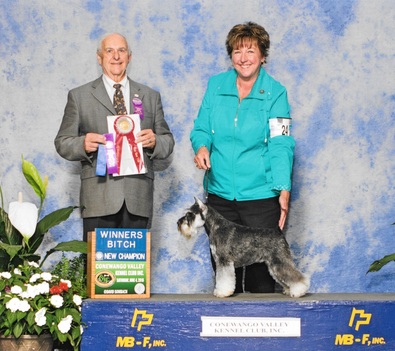 ~ Dazzle~ GRCH CH Myla's Chicago Razzle Dazzle at Riversong
Dazzle's Pedigree
Dazzle was bred by Lauri Sicurella and came home with me in July 2015. She is a little "devil puppy" and I'm having so much fun with her! Our first show was at our National Specialty at Montgomery County Kennel Club's All Terrier Show in October, 2015! She has a blast in the ring!
Dazzle finished her Championship at the tender age of 14 months with her 3rd major in June 2016. I've started on her Grand Championship because she really does love the show ring! We're ranked the number 6 Miniature Schnauzer and Handler in the country according to the AKC's 2016 ranking of their National Owner Handler Series. My plan is to breed Dazzle in the fall of 2017 and have some beautiful puppies! News alert! Dazzle had 5 beautiful baby boys on 10-21-17. Everyone is spoken for but I do plan on breeding Dazzle again in 2018.
Dazzle is just the most fun you could have in the ring! At the ripe old age of 18 months, she had already gotten a Group Placing, we got a Reserve Best Owner Handled in Show and Select Bitch at our National Specialty at Montgomery County! Whew!!! Love this girl!!!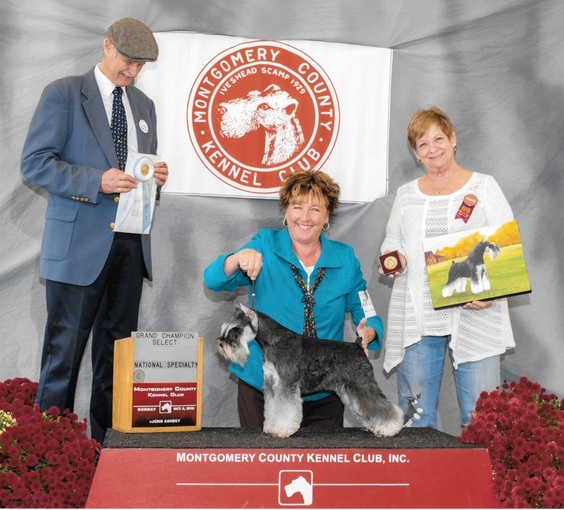 Our newest additon......Markie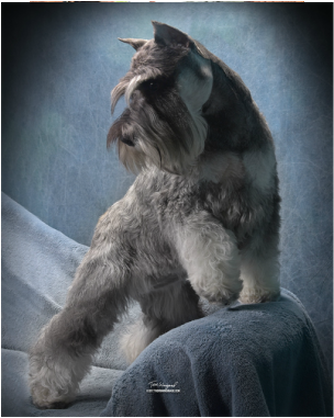 ~ Markie ~ GRCH CH Wards Creek's Right on the Mark at Riversong
Markie's Pedigree
Markie came from my good friend Gale Schnetzer of Wards Creek's Miniature Schnauzers.
She's a pretty, feminine and showy girl!
Markie kicked off her show career with a bang!

Our first weekend out in the Spring of 2017, she got both her majors at the age of just 7months!
Thanks to judges Linda Reece and Thom Parrotti for these great wins!!
Markie loves to show and her movement is to die for!!
At 9 months Markie picked up 2 more majors!
At 10 months we won another major and she finished her Championship at 10 months old
with 5 majors!!! WOW!

She started her specials career going Best of Opposite Sex at the Paul Revere
Miniature Schnauzer Specialty in West Springfield! She finished her Grand Championship at just 12 months old!

She is such a showy little girl AND a pistol to live with!!!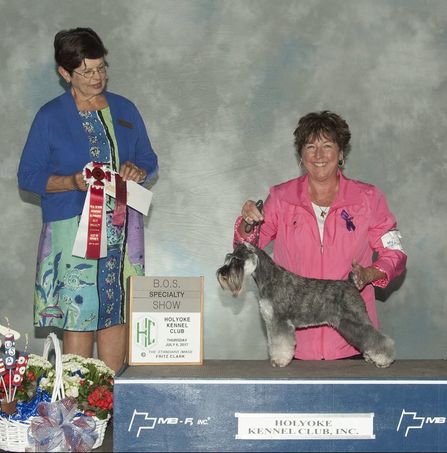 In memory of my Julia
~Julia~ CH Wards Creek's Something to Talk About

9/23/2011 ~ 1/14/2016

Julia came into my life at a time I needed her most as I had
just lost my husband of 31 years.

She was the sweetest miniature schnauzer I have ever owned and she became a beloved member of my household. I had so much fun showing her and she finished quickly.

I lost her suddenly and unexpectedly due to an unknown toxin that took her in just a matter of days.

But I have to believe that there was someone that needed her more now than I did and that's where she went,
to help heal another heart.