About the Miniature Schnauzer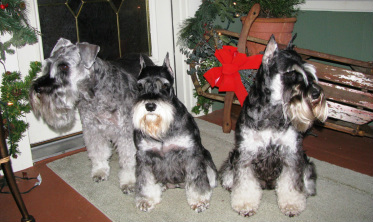 The miniature Schnauzer is a hardy little dog that
thinks he's much larger than he really is!


What I like about them is that they are big enough that you don't feel like you'd kill them if you accidentally stepped on them, but they are small enough to be portable and easily scooped up if necessary.

They don't shed. That's why they are considered lower-allergen.

They are a double-coated breed and they do need to have their furnishings and beard brushed and combed frequently to prevent matting and keep them looking good! Their grooming requirements are higher as they do not shed and their jacket either needs to be clippered or hand plucked to keep them looking neat and tidy. Most pet owners choose to have them professionally groomed every 5-8 weeks.

They don't have that classic "doggie odor".

They travel well.

They love their people and love to be loved by their people!

They are attention hounds without being needy.

They love toys!

They do well with children if they are raised with them.

They are the 17th most popular breed in the United States (based on the number of AKC registrations).

Their exercise needs are moderate.

They are prey-driven and should not be off-lead without extensive obedience work. A fenced yard is really nice to have! You'll delight in watching them chase squirrels and birds in your yard. Not maybe not so delighted when they catch one!

They are easily house-trained.

They do bark and can bark a lot.

They truly benefit from being constantly socialized and exposed to new situations.

They do very well in performance sports.






Mini Schnauzer Health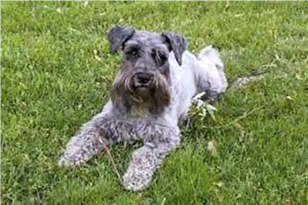 A well bred miniature schnauzer should live to be 12-14 years old. Some have been known to live to 17 years old!
As with people, it's best to keep your dog at an optimum weight and in great condition!
Schnauzers LOVE to eat and will tempt you daily to overfeed them!
It is therefore extremely important to feed a healthy well-balanced diet to your dog. As with people,
they are what they eat!
There are a number of extremely good quality foods available today. They include the following brands:
Blue Buffalo
,
Health Extension
,
Natural Balance
and many more. Read the labels carefully, as Schnauzers do not need high levels of fat in their diets as
hyperlipidemia
or high blood fats can be common in the breed. In fact there is a newer study at Texas A & M University regarding this disease. Choose a food with a fat content of 10% to 15%. A lot of these new Grain Free foods are much higher and our minis don't need those high levels of fat.
I feed a mix of
Natural Balance
and Vet's Choice
Health Extension
kibbles which I add my home-made "doggie stew". I was buying high quality canned food to use as a topper and still do when I don't have time to make my own. I decided to try to make my own topper as it would be better quality at a much more reasonable price. They also get fresh baby carrots and other fresh fruits & veggies and a few high quality dog biscuits for treats.
I recently stated feeding Honest Kitchen dehydrated raw to my old guys and using it as a topper for the younger ones. I've been very pleased with it and cost wise, it's really no more expensive. I've been buying Keen (turkey) and my guys really love it.

I've also discovered Stella & Chewy's Freeze Dried Super Beef Patties. They are great as a topper or if someone is off their food. I've yet had a dog turn their nose up at them!
Here are my "Doggie Stew" recipes if you'd like to try them.
I mix about 3/4 kibble to 1/4 doggie stew.
Recipe #1
1 lb. lean ground beef - browned
Boil 1/2 cup macaroni in 1 can of no added salt chicken or beef broth until tender - do not drain
16 oz. bag frozen peas & carrots or mixed veggies
1 can no-salt added stewed tomatoes (optional)
1/8th teaspoon garlic powder (optional)
1 T. dried parsley
Mix all together and mix with kibble for a healthy, delicious meal!
Recipe #2
1 lb. ground turkey - browned
Boil one peeled and diced sweet potato and 1/4 cup macaroni in 1 can of no added salt chicken broth until tender - do not drain
16 oz. bag frozen peas & carrots or mixed veggies
1 can no salt added diced tomatoes
1 T. dried parsley
1/4 teaspoon dried thyme
Mix all together
I store the stew in plastic containers and they freeze great. the dogs go ape over it and it's so much cheaper than canned and SO much better for them. No additives, no preservatives! When I say "human grade" I'm not kidding!
Once a month they get frozen raw marrow bones. I believe this helps their teeth and can reduce the need for professional cleanings. But every dog is different. It also helps to brush your dogs teeth weekly. Buy a battery operated Oral B type toothbrush (with a small head). Use doggie toothpaste (not people toothpaste). That too will help keep plaque and tartar at bay.
I also recently became aware of natural product called
Petzlife
Oral Care Gel and Spray. You can find it on-line and have been using it with some success on my dogs.
********************************************************
Here are some links to some informative websites.
Marvista Vet
I really find this a very helpful website. They offer simple, easy to understand explanations and cover everything from medications, surgical procedures and an index of diseases. A great place to start your research.
Veterinary Partner
is a very helpful site as well!